As of November 2019, I am no longer offering Prenatal and Baby Bodywork. 
I am referring clients to these practitioners
Lili Gill for prenatal/postpartum care: http://liligill.massagetherapy.com
Kate White, who is a specialist in perinatal and baby bodywork: http://www.belvederearts.com/
If you have gift certificate with me, I will honor it!  Please email or call to schedule.
---
In my practice, I offer prenatal massage for mom, baby bodywork, and baby massage instruction for parents.
It's an important thing, creating new little humans. A mother's body goes through so many physical changes throughout the gestational period, not to mention the emotional difficulties that can arise. Then there is the work of childbirth, which brings its own set of challenges to both the mother and child.
Having my own children, and now helping them as they are having their children, I have learned a lot about all of this. Witnessing and supporting the pregnancies and births of my seven grandchildren has taught me many, many lessons. As a bodyworker, I have taken many specialized trainings to learn even more ways to support mothers and babies throughout the birth year.
Scroll down for more information about Prenatal Massage, Baby Bodywork, and Learning Baby Massage to work with your baby at home.
---
Prenatal Massage
Besides relieving physical discomforts, perhaps the most important thing I can offer in support of mothers and babies is the quiet, nurturing space to pause, calm, breathe deeply, and let go of stress. Studies show that your levels of stress can directly affect your baby, and can even alter the way its nervous and immune systems develop. Bodywork is clinically proven to lower stress hormones in mom, and this is very good for your baby.
I can also offer resources to help you to slow down and connect with your baby in utero at home. Babies are sentient beings who are aware, and very attuned to mom. From birth, they can sense their mother's presence, recognize her voice and smell in a room full of people, and will look for her from the moment of birth. If the dad talks to baby in utero, baby will also recognize his voice. Your relationship with your baby begins even before conception. This is such an important time.
I offer prenatal massage sessions from conception to birth, and the three months after birth. I use a combination of relaxing massage, myofascial therapy, and craniosacral therapy. For postpartum sessions, mom is welcome to bring baby along. Accommodations for nursing and caring for your newborn as needed will be made.
---
Baby Bodywork
I offer a FREE Baby CST Session during the first week of life outside the womb.
Gentle Craniosacral unwinding for baby, to help address challenges that can arise after any birth. I will come to your home or the hospital soon after birth, so no need to bring baby out.  If needed, follow-up sessions are available at regular rates.  Single session is $60 or 3 sessions for $140.
Mom has her experience of the birth, but baby has an experience, too. Baby experiences the uterine contractions, the times when labor may be slowed and their little bodies are compressed waiting for things to move along,  the effort required to make their way through the birth canal.
Sometimes the realities of pregnancy and birth can result in compressions in the craniosacral system (head, neck, spine) which could affect cranial nerve function and lead to difficulties with nursing, colic, digestive problems, torticollis, and other issues.  These can often be relieved with 2-4 sessions of very gentle craniosacral therapy.
Babies can benefit from therapeutic massage as well.  Often, because of the way baby was positioned for long periods of time during pregnancy and birth, certain patterns can imprint into their myofascial tissues, and massage can be very effective for correcting this.
I have many skills and resources to share with you and your baby.  In cases where I believe the situation is beyond my skill set, I can refer you to specialists with more experience who will be able help you.
Janet Evergreen has been one of my most influential teachers of craniosacral therapy.  In this video interview she explains craniosacral therapy for babies, children, and adults.
---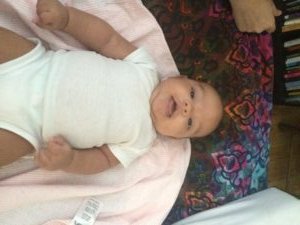 ---
Contact me today to see how to make Prenatal Massage a regular part of your wellness care during this amazing time of life!